As diving gear becomes more advanced and diving itself becomes a more common passion for people today, there's a growing need to find the best full face scuba mask with communications. However, with so many varieties of full face scuba masks available on the market, how can you find the best? The right scuba gear will make your diving experience more engaging and worth your time. We've conducted comprehensive research of a number of products available in the market to help guide you through choosing the right type of full face scuba mask.
The GDivers series IDM (Integrated Diving Mask) is the perfect mask for the sport diver. Suitable to start diving (proper training required of course) or for an already passionate diver, the GDivers is the perfect first step into the IDM, Full Face Masks world, without having to compromise in the quality of the product, with endless possibilities of customisation, whenever desired. The Neptune Space G.divers mask is available in 2 sizes and 4 color options and includes an integrated balanced 2nd stage regulator with a 3/8″ threaded 31.5″ (80cm) low pressure hose. The patented bellows style face skirt, molded from premium grade silicone rubber, uses a spring profile and large sealing double the size and spacing (30-45mm), to achieve a very comfortable fit and ample support. This spring effect is a combination of the double S section and the inner support ribs which allows the G.divers full face mask to float comfortably on the face. The head strap is directly attached to the face shield, allowing pressure to be distributed equally along the mask skirt. The six straps of the head harness hold the mask in a firm position due to their low elasticity. The tip of each rubber strap is wider, making them easier to grasp while wearing neoprene gloves. The FRB II (fast rotating buckle) allows the mask to be donned and doffed quickly
Space Extender is the mask for the avid diver, adventurer and diving professional. Cold water certified, balanced, on demand, integrated regulator. Polycarbonate visor. Directional exhaust valve (4 positions), dive/predive switch. The extender kit and surface air valve included.
Key Features
_____________________________________
Double Seal Designed Full Face Mask (FFM) Skirt

Skirt Material: 55-60 Shore A Liquid Silicone

Double Seal: Fits Small, Slim Faces, Especially in Temple-Area

Easy Adjust Buckle System

5-Point Spider Head Strap

Low Volume Full-Face Design

High Strength Polycarbonate Visor (Lens)
GFFM was designed around a double seal allowing for the comfort of both small and large faces. Equalizing is a challenge for all full face masks one size does not fit all. In order to ensure everyone can equalize, we have put together an Equalizing Kit, which comes with every Guardian full face mask. The kit consists of two bases. One is a standard size without any holes. It can be adjusted up or down to fit as necessary. The other base has two holes, which allow for different size pads that can be added. In the event the standard base does not work for you, one of the pads and the other base should fit the bill. The Guardians low profile allows superb visibility and its easily removable 2nd stage regulator works great for storage and easy maintenance. The Ambient Breathing Valve allows the user to breathe ambient air at the surface, conserving your tank air. It is simple to use and its low profile keeps it out of the way. Adjustable head straps with robust hardware make this mask what it is, simply the best. We have also included a full face mask bag.
Key Features
_____________________________________
The Mask is tested to a maximum diving depth of 50m according to EN 250:2014**
It is designed for water temperatures below 10°C and is suitable for cold-water diving applications. Ultimately, cold water performance is dictated by 2nd stage regulator being used.
It is tested for diving applications with breathing air according to EN12021.
The Mask has been tested according to the European standard EN 250:2014**
With the Spectrum, Full Face Mask, Ocean Technology Systems created the best full-face mask (FFM) on the market that allows divers to user their own regulators and eliminating the heavy cost associated with standard Full Face Masks (FFMs), without sacrificing luxury. The Spectrum FFM provides a simple method to adapt your own regulator to the mask by eliminating the bite down mouthpiece and tying your own regulator in with the rest of the FFM. This allows for some of the best features of OTS's other Full Face Masks: no jaw fatigue, no dry mouth, double seal for a better fit, five-point head harness and clear communications. The all new Spectrum FFM has a coated tempered glass/iridium safety visor for exceptional and a wide field of vision. The skirt is manufactured from hypoallergenic silicone rubber with upper and lower visor clamps made from black polyphenylene sulfide (PPS) and the 5-point head harness made from EPDM a natural rubber blend. The inner frame, buckles and buckle locks are manufactured from glass filled zytel. 
These masks have the intermediate pressure of the regulator set up at 50/60 PSI allowing the use of the mask with an alternative surface air supply (hookah). Performance of the Neptune Space 50/60 regulator depends on the stability of intermediate pressure provided by the surface air line supply. The Neptune Space 50/60 PSI also includes a Limited Lifetime
Key Features
_____________________________________
Ocean Reef Neptune Space G Full Face Mask

Available in 2 Sizes and Multiple Color Options

Integrated Balanced 2'nd Stage Regulator

Diver Adjustable Flow Control Knob

3/8″ Threaded 31.5″ (80cm) Low Pressure Hose

Patented Bellows Style Face Skirt

Molded from Premium Grade Silicone Rubber
Full Face Mask with 2nd Stage Regulator, Low Pressure Hose, Diver Communication Unit and Owner's Manual. With a Panoramic view allows you to see easily with a comfortable fit. Provides you with the ability to breathe through your nose prevents jaw fatigue. Integrated Balanced 2nd Stage Regulator certified for cold water use. Along with an adjustable breathing valve.
High performance full face mask The G.divers mask is available in 2 sizes and 4 color options (emerald, blue, white and pink) and includes an integrated balanced 2nd stage regulator and low pressure hose. The patented bellows style face skirt, molded from premium grade silicon rubber, uses a "spring profile" and large sealing surface, double size of conventional masks (30-45mm), to achieve a very comfortable fit and ample support. This "spring" effect is a combination of the double "S" section and the inner support ribs which allows the G.divers FFM to "float" comfortably on the face. The head strap is directly attached to the face shield, allowing pressure to be distributed equally along the mask skirt. The six straps of the head harness hold the mask in a firm position due to their low elasticity. The tip of each strap (rubber) is wider, making them easier to grasp while wearing neoprene gloves.
Best Full Face Scuba Mask (Buying Guide)
There are a lot of cheap brands available in the market for full face scuba masks, but to find a mask that will last you a couple of swims underwater, you need to go up a bit with your budget. Besides, not all masks come with all the good features, so you need to find the masks that can meet your general requirements. To find the ideal mask of your choice, this full face scuba mask buying guide can help you out.
Consider the Type
Masks with Mouthpieces
If you're a professional scuba diver who needs to go down the ocean to capture wonderful underwater scenes, then you need masks with mouthpieces. They're generally designed to withstand icy water so that you can breathe and talk without having any issue.  
Masks with the Tube
Tube masks generally have an overhead tube, which helps to get out CO2 and help you with breathing without leaking any water inside. They're essentially made as snorkeling scuba diving masks. For safety, they generally have a great communication system. You get space in front of your mouth to talk and breath. Also, they're available with tons of features at a cheap rate nowadays.
Give it a Try Beforehand
This is quite important – full face masks come in many sizes and even with adjusting straps. No matter how much research you do on masks, you need to give it a try before actually going diving with it. This is because an unfit mask underwater can choke you and eventually kill you. So, before dunking yourself, wear the masks and adjust it well.
Another major aspect you should check while trying the masks is its range of visibility. Once you wear it above ground, you'll understand how much visibility you're gonna get underwater. If you prefer a wide viewing angle, you should choose the masks with a 180-degree panorama viewing angle or you can choose the low visor masks, which will let you see down. 
Anti-Fogging
The very first thing you need to check before buying a full-face scuba mask is whether the mask has anti-fogging features or not. A mask underwater fogging up doesn't only block your view but also might result in serious injuries. 
Mask Lens Type
Check if the masks have high quality single/dual single or multi lenses because breaking lenses under the water may cause you to drown in case you have any eye injuries. 
Strap System
Most of the masks come with straps, so you should check the materials the straps have been made out of. Straps shouldn't be made with very hard materials, which might make you claustrophobic underwater.
Mask Weight
Another important feature is to check whether the mask is light for you to use under the sea for a long time. Sometimes, companies try to make the masks too sturdy or too futuristic. As a result, they become too heavy to dive underwater. As an example, having a GoPro mounting capability is good, but if it makes the mask heavier, then it might be a problem for a scuba diver. 
Choosing the Right Color
Choosing the right color is a very important step in terms of full face scuba masks. While diving, if you face any emergency or disruption in the communication system, then a bright mask is the very thing that can save your life. 
Basically, you can choose any color you want, but the color or finishing has to be bright enough so that you can be seen from a good distance underwater. Most of the premium brands make the mask as bright as possible. 
Going by the Brands 
You can buy a mask from any brand, including the copycat ones, but when you buy something on which your life depends, then you should go by the brands. This is because spending a few more bucks can not only save your life and also can improve the fun of diving. If you're already a swimmer, then you should check out the best branded products we've featured above.
What Are The Advantages?
There are several reasons why full-face scuba diving masks have become popular, not just among professionals but also recreational divers:
Easier Breathing
One of the main reasons why scuba divers prefer full-face masks is that they allow divers to inhale and exhale normally. This helps divers stay calm and helps them concentrate on what's happening in their surroundings.
The mask also eliminates the need to learn how to manage airflow and practice breathing techniques (all of which are required with a conventional mask).
Unobstructed Views
High-quality full-face scuba masks have a curved lens that provides nearly a complete 180-degree view, which is significantly more than any conventional dive mask. This allows you to observe more marine life and also have a clear view of where your dive buddy is headed.
The Whole Face Is Protected From the Outside
The mask covers your entire face and protects it from getting in contact with water. Conventional masks expose the lower part of your face and may slip off or leak if you move a muscle in your face a certain way. On the other hand, the full-face mask gives you the freedom to breathe comfortably without the danger of the mask slipping. The design is sturdy enough to keep your mask from moving around or slipping in rough waters.
No Jaw Fatigue
Since you don't have to attach the regulator through a mouthpiece, your jaw won't get fatigued since you won't be biting down on anything. You can dive for long periods of time, including multiple dives in a day without feeling any discomfort or worrying about have a sore jaw later on.
No Snorkel Clearing
Traditional snorkels may be used underwater if you're swimming out to a particular dive point. They usually have a mechanism that prevents water from seeping in, but leakages are still likely to occur. With the full-face mask, you don't have a snorkel attached to the mask. Therefore, you also don't need to take care of your snorkel and clean it after every dive. You also won't have to deal with little bits of water making you cough and feel uncomfortable when you're in the water. You can enjoy yourself more without having to worry about swallowing a mouthful of salty water.
Less Fogging Due To Better Air Circulation
Scuba masks generally tend to fog up and obstruct your vision as humidity builds up inside them. Full-face scuba masks generally have an inbuilt ventilation system that keeps air flowing constantly and prevents them from fogging up. The air entering the mask is filtered, circulates inside and then exits the mask.
Optional Underwater Communication
Through a system of integrated underwater intercoms, divers can communicate with their dive partners, the crew on their dive boat and anyone else who is connected to the system. This is particularly useful for divers who are underwater for research purposes or looking for something (such as exploring a newly discovered shipwreck).
Can Be Used When You Have a Beard
With the standard scuba mask, there is a chance of facial hair, such as your beard or other loose hairs, getting stuck in the mask and causing it to leak. Since the full-face mask covers your face entirely, it is a better option for people with mustaches and beards who have trouble dealing with regular masks.
No Risk of Losing Your Regulator
Since the regulator is integrated into the mask itself, there is a lesser chance of you accidentally losing your regulator mid-dive. It is also ideal for people with any sort of dental issues that may make holding onto a regular painful.
This integrated regulator is also quieter than the conventional ones, so it won't disturb the marine life around you.
Greater Security
The mask has a series of straps instead of a single one. If the straps are properly secured in place, the chances of you dropping your mask are significantly lowered.
Suitable for Colder Climates
When diving in extremely cold climates, scuba divers must wear dry suits to keep their bodies warm. However, research indicates that if your head is exposed to cold temperatures, even if your body is completely insulated, the body's temperature drops quite rapidly.
The full-face scuba mask helps keep your face warm (and keeps it from getting numb because of the cold) and lets you dive comfortably, especially if you intend to stay underwater for a long period of time.
Provide Safety from Oxygen Toxicity
Oxygen toxicity is a medical concern that arises when divers are exposed to oxygen at very high pressure. This is usually a concern for professional divers who go in very deep and use Nitrox blends or even 100% oxygen as a decompression gas.
If a diver starts convulsing due to oxygen toxicity or is losing consciousness, the full-face mask still makes it easier for them to breathe (and can potentially save the diver's life) as opposed to a traditional mask where they would have to grip the regulator mouthpiece with their teeth. This is among the top reasons why full-face masks became so important for commercial and scientific divers.
Cons of Buying a Full Face Scuba Mask
They're More Difficult to Put on Properly
The downside to there being more straps means that a full face scuba mask is harder to put on properly, especially in the water. If you are not careful and fasten the straps tightly enough, it could fall off or even flood.
Slightly More Difficult to Clear
Although full face masks are far less likely to flood than traditional masks, it still can and does happen. The problem is, when it does happen, it is more difficult to clear because there is a greater amount of water.
To make matters worse, breathing may not even be possible while it is flooded if there is too much water in the full face dive mask.
Dropping Your Full Face Dive Mask is a Serious Problem
When you are diving with a traditional mask on and you drop it, you don't have to necessarily rush to find it and put it back on. You still have your reg and besides, you may have more than one spare in a handy pocket.
With full face scuba masks, dropping a mask is a lot more serious, because it incorporates both your reg and mask. The good thing is that due to the design, the regulator hose in a full face mask provides you with a tether to the mask, so you hopefully won't spend too long without one if it does fall off.
The Deterioration of Basic Diving Skills
Many divers who use full-face scuba masks in the water, can become accustomed to just speaking to their dive buddies and the boat on the surface, they are out of practice using even the most basic of hand signals. While it is fine if you are diving with a whole party of full face mask divers, what happens when you are out with those not using them?
As technology is not perfect all the time, what happens when the intercom system goes down?
Although we are not suggesting that you use this as a reason for not investing in a full face mask, it is a very important side of things to consider. Basic communication and diving skills, including regulator recovery techniques and mask clearing will always be useful, even when you are using these awesome full face dive masks.
Consider the Weight and Price
It goes without saying really, as you can see from the models we highlighted further up the page, that full face scuba masks represent quite an investment.
On top of that, even the most streamlined and lightweight full face diving masks are still heavier than standard scuba and snorkel mask models.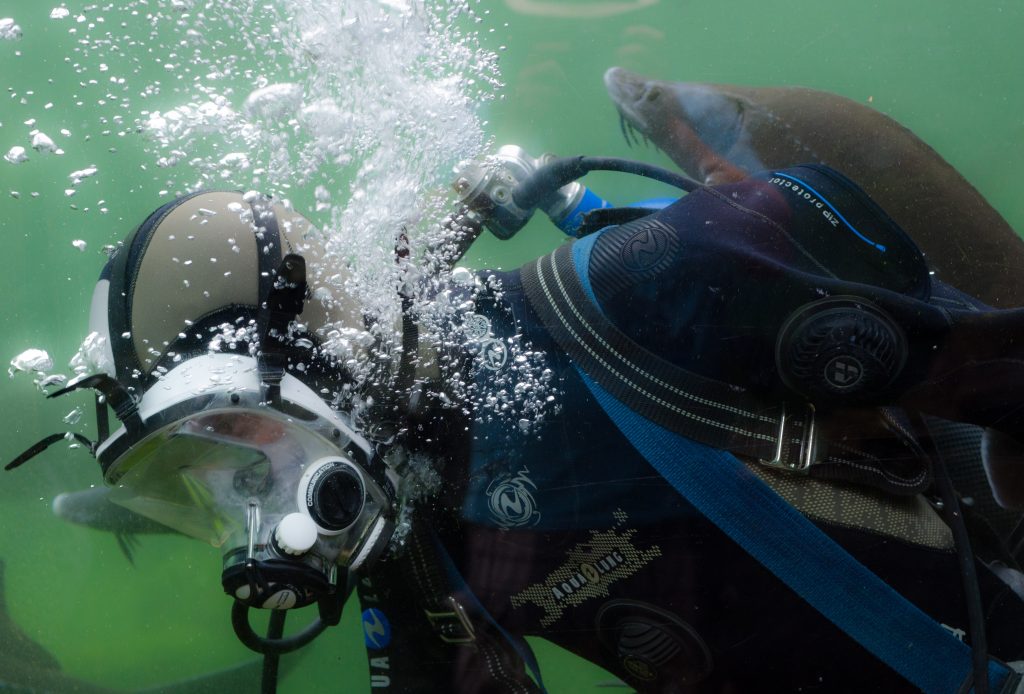 Some answers to some important questions
How does a Full Face Scuba Mask Work?
So how does a scuba mask full face work? Unlike traditional scuba and snorkeling mask that just cover your nose and eyes, full face masks cover your mouth too. These full face masks have built-in regulators so you do not have to hold a regulator in your mouth when you dive. Divers love these full face masks as there is no way of getting jaw fatigue, and also allows for underwater communication.
Are Full Face Scuba Masks Safe?
Unlike the snorkel full face mask models, full face scuba masks are safer options to use when diving. These masks are designed to be used at depth. Having said that, we recommend you take an appropriate course or special training on how to use them properly like you would with any new piece of diving equipment.
What is the Best Full Face Diving Mask?
Looking for the best full face masks for your next scuba adventure? We hope that we have helped you do just that. If you are tired of your snorkel mask and want communication underwater then investing in one of these scuba accessories is just what you need. Check out our review above to make the best and well-informed choice in choosing your next diving accessories.
Summary
Whether you're a pro or a beginner diver, there's one thing you must always keep in mind before you go diving: learning the necessary signals. We're talking about the old hand communication system, because you shouldn't depend entirely on the telecom virtual communication system. No matter how many premium full-face scuba diving masks you buy, the connection might get disrupted at any time. So, take the lessons and don't forget the hand communication signals before you jump in the water. 
Now, you should have a clear idea about which type of product you should go for. We hope you enjoy hours of fun under the waves with your new full face scuba mask.